Health thru Chiropractic










1806 E. Abram
Arlington, Texas 76010
PH: 817-275-3442



The most common adjusting style I use is often referred to as "Diversified." With the malposition of one or more spinal bones identified, a specific manual thrust is administered. The exact direction, amount of speed, depth of thrust and angle that are used is the result of my experience, practice and a thorough understanding of spinal mechanics.
The energy delivered with my thrust may produce a slight "popping" sound from shifting gas and fluids in the joint. This sound seems unusual and interesting, but in actuality it has little to no meaning as to the value and effectiveness of the adjustment.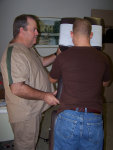 At Abram Chiropractic Center Sandy and I want each of our patients to feel they are important to us. In a world of "Please take a Number and an associate will help you as soon as it's convenient", we want you to know you are number one to us. Sandy and I love our patient's and we will give you all of the time and respect that you rightly deserve. It is our goal to improve your sense of well being through chiropractic care and to educate you about your body's intelligence and healing potential.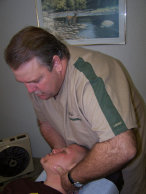 Not only does improving the biomechanics of your spine reduce irritation to your nerves but it also improves your spine's range of motion. In fact almost all of the joints of your body can be manipulated to help restore their proper range of motion.
Over the years I have learned and utilized a variety of techniques to adjust the spine and remove interference to the nervous system. Therefore, depending on the age, size, chiropractic and orthopedic findings and your preference, I use different adjusting approaches with each person.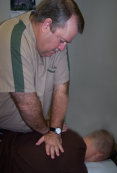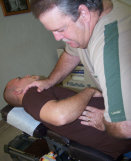 Select Topic: